BAAND Together Dance Festival 2021

Five companies. Five programs.
Five nights.
We are excited to announce that five of New York City's most iconic dance companies—Ballet Hispánico, Alvin Ailey American Dance Theater, American Ballet Theatre, New York City Ballet, and Dance Theatre of Harlem—will perform on the same stage at the first ever BAAND Together Dance Festival in Damrosch Park, August 17th-21st. This exciting performance series is part of Restart Stages, the new outdoor performing arts center constructed on the Lincoln Center campus to champion the city's cultural and economic revival. This Festival is made possible by CHANEL and is a project of the Arnhold Dance Innovation Fund.
In this unprecedented celebration of dance, our companies will share five mixed bill performances, offering audiences the unique experience of evenings curated collaboratively by the artistic directors of each of our organizations. DTH is thrilled to bring New Bach by Resident Choreographer and DTH School Director Robert Garland, Change by Dianne McIntyre, and an excerpt of Harlem On My Mind by Darrell Grand Moultrie to live audiences for the first time in more than a year.
Please note: This performance will be seated at full capacity without social-distancing. FREE assigned seats for each evening will be made available through theTodayTix Lottery, the Official Ticketing Partner of Restart Stages. Enter for a chance to win up to two free seats, starting two weeks before the show:
August 17th performance:
Lottery is closed. General Admission is available.
August 18th performance:
Lottery is closed. General Admission is available.
August 19th performance:
Lottery is closed. General Admission is available.
August 20th performance:
Lottery closes on August 17th at 12:59pm ET.
August 21st performance:
Lottery closes on August 18th at 12:59pm ET.
Ticket-holders must arrive at least 10 minutes before show time to guarantee seats. For more information visit TodayTix.com or download the TodayTix app. For those without access to the app, please call Lincoln Center Guest Services at 212-875-5456 to reserve.
This performance will also be open to general admission. Beginning 10 minutes before the show, non-ticketed guests will be invited to claim any available seats, first-come, first-served. Over 1,000 free seats per performance will be available for general admission. Please read more in the General Admission Standby Policy section on the page linked below.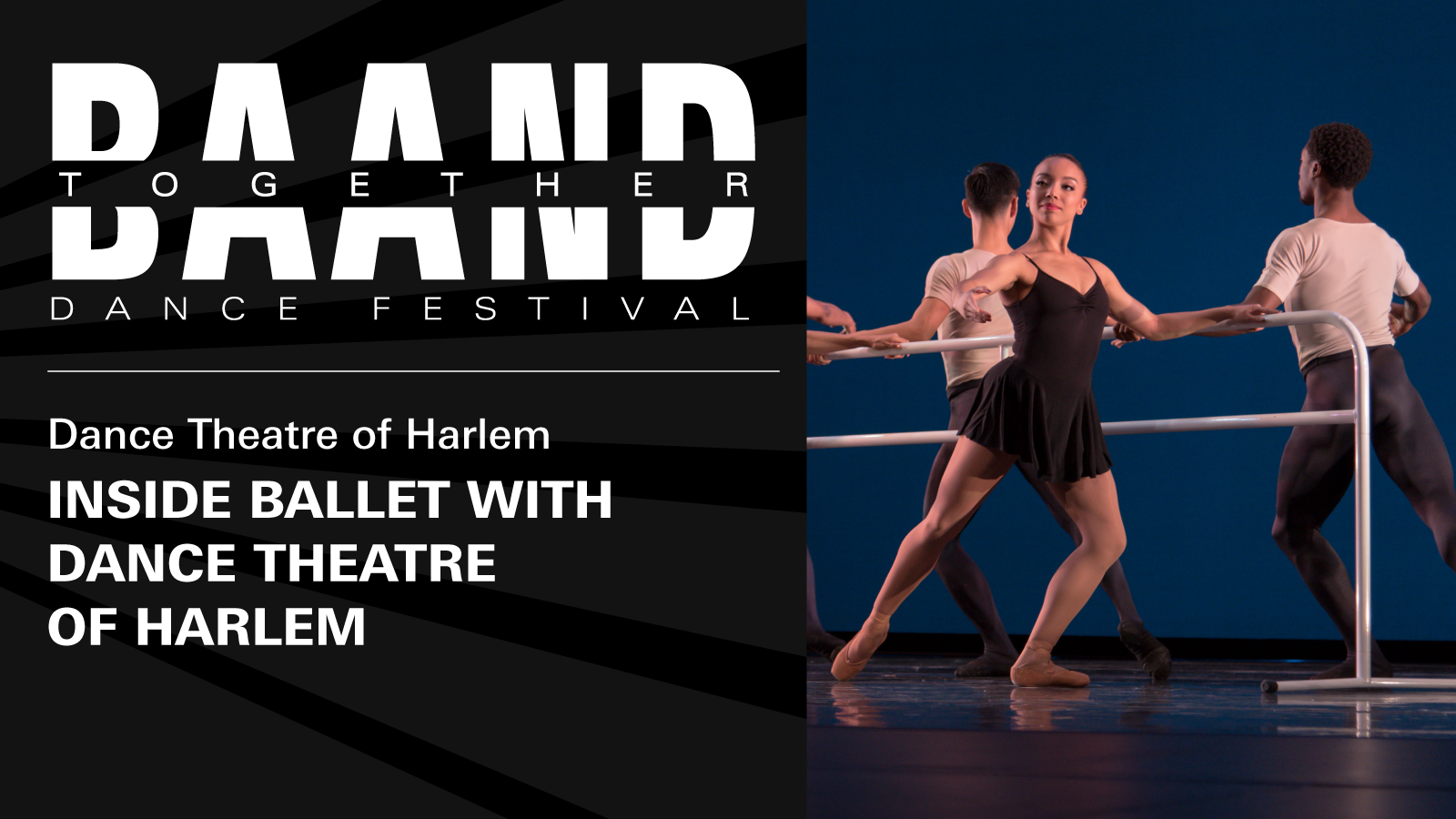 Experience Inside Ballet with Dance Theatre of Harlem on Saturday, August 21st at 4:00 p.m ET at The Isabel and Peter Malkin Stage at Hearst Plaza. This workshop is a part of the BAAND Together Dance Festival and will be led by our very own Company Artists.
Join us for an informal performance that will take viewers into the art of classical ballet, from the training and preparation of a dance artist through the elements of choreography. Following a brief history on ballet and DTH, the performance begins with exercises at the barre and the reasoning behind them before quickly moving on to jumping, partnering and lifts. Finally, viewers can enjoy excerpts from the DTH repertoire showing different styles of ballet, including Darrell Grand Moultrie's Vessels, Arthur Mitchell's Tones II, the adagio from the Le Corsaire Pas de Deux and Robert Garland's "Mother Popcorn". Viewers will be able to interact with our Company Artists during a Q&A segment to close the program.
Reserved spots will be available via the TodayTix Lottery. Enter for a chance to win a free ticket (good for up to four people), starting two weeks before the workshop on August 7th. Entries will close three days before the event at 12:59 pm ET. This dance workshop will also be open to general admission.
BAAND Together Festival Education Workshops are generously sponsored by The Thompson Family Foundation
Photo credits (left to right): Lyvan Verdecia, photo by Rachel Neville; Khalia Campbell in Rennie Harris' Lazarus, photo by Paul Kolnik; Hee Seo and Cory Stearns, photo by Patrick Fraser; Sara Mearns, photo by Pari Dukovic; Company Artist Ingrid Silva, Photo by Rachel Neville