Velvor Rhone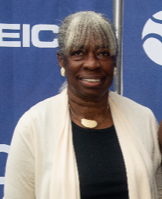 I have been going to the ballet as long as I can remember. My mother started taking me when I was around three. I started taking lessons when I was 8 from Sonia Boch. I have seen Nureyev and Fonteyn together, Baryshnikov after he defected. I have seen all the major ballet companies live in New York, Paris, Rome, Vienna, and London. All the while realizing that other than a handful of people my beautiful ballet did not include me.
I remember reading that Arthur Mitchell, whom I knew from NYCB, was starting a ballet company with black dancers and I knew I had to see them. I was in the Anta Theater that first season for so many performances. When I look back, I remember being struck by Buguku, Concerto Barocco, Agon, and other pieces I had seen at NYCB. I was surprised by how wonderful it was to see myself on stage performing the steps I had learned as a child.
My two most memorable DTH moments were seeing Virginia Johnson in Creole Giselle in an audience that included DTH students of all ages. I realized how lucky they were to be able to see themselves on stage. The second was seeing Stephanie Dabney as Firebird. I am sure I saw every performance at City Center from every section of the theater. I can close my eyes and still see her floating over the stage.
When DTH started performing again, I promised to do whatever I could to make sure the feelings that I have when I see them perform continue to be experienced by generations yet to be.