DTH On Demand: LIVE Open Class
GYROKINESIS®
Special Guest Instructor
Dr. Adesola Akinleye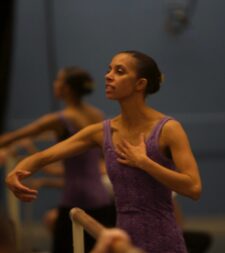 Dr. Adesola Akinleye will be teaching a GYROKINESIS® class with a focus on how this movement system can support ballet practice. By the end of a GYROKINESIS® session, one's entire system is awakened and brought into greater balance. Focus on the breath stimulates the parasympathetic nervous system, resulting in a sense of calm, well-being and mental clarity. Adesola's classes emphasize the connectedness of dancing/moving body with environment through breath and imagery.
*Those taking part in the class should have a steady stall or chair they can sit on. Please wear loose comfortable workout clothing.
Dr. Adesola Akinleye is a choreographer and artist-scholar. She began her career as a dancer with Dance Theatre of Harlem (USA) later working in UK Companies such as Green Candle, Carol Straker and Union. Over the past twenty years she has created dance works ranging from dance films, installation and texts to live performance that is often site-specific and involves a cross-section of the community as well as acting as guest choreographer for Company and University repertoire. Her work is characterized by an interest in glimpsing and voicing peoples lived experiences through creative moving portraiture.
Adesola founded and is co-artistic director of DancingStrong Movement Lab, including trip (turning research ideas into practice) to cultivate a unique multi-generational, multi-disciplinary nurturing and ensemble spaces for the creation of new works. A key aspect of her process is the artistry of opening creative practices to everyone from ballerinas to women in low wage employment to performance for young audiences. She is currently a Research Fellow with Theatrum Mundi  (Choreographing the City). This research is in part informing her new work Navigations: Concrete-Water-Flesh, a hybrid physical/web-based live performance piece in collaboration with DancingStrong Movement Lab, co-directed by Helen Kindred.
Adesola has published in the field of dance scholarship as well as cultural and social studies. Her work includes the editing and curation of Narratives in Black British Dance: embodied practices (2018); for which she was shortlisted for One Dance UK's Impact in Dance Writing Award in 2018. She is currently working on two book projects, editing and curating the forthcoming anthology (re:) claiming ballet. Alongside this is her book informed by her research at Theatrum Mundi, In conversation: dance, architecture and engineering which in part looks at using choreographic knowledges to discuss how space is/could be created for Black women's' bodies in the city.
For her choreographic work, Adesola has been awarded ADAD Trailblazer, Bonnie Bird New Choreography Award and One Dance UK Champion Trailblazer. For her work in community dance and education, she was awarded Woman of the Year in Community Dance by the Town of Islip, New York. She is a Senior Lecture at Middlesex University running a web-based/on-line BA and MA course for professional working artists. She is a Fellow of RSA. She holds a PhD from Canterbury Christ Church University and MA (distinction) from Middlesex University. She currently lives between London and Boston.