Sunday Matinee | February 9, 2020
Date/Time

February 9, 2020 3:00 pm
Venue

Dance Theatre of Harlem
Address

466 W 152nd St (between Amsterdam & St. Nicholas Aves)
New York, NY 10031
Price

$15 | General Admission
$10 | Seniors, Students, Children Age 10 and under
Dance Theatre of Harlem's Sunday Matinée series grew out of Co-Founder Arthur Mitchell's commitment to providing the community access to the arts. Be transformed by an inspiring afternoon of artistry in year two of our 50th Anniversary celebration.
---
Hosted by James Washington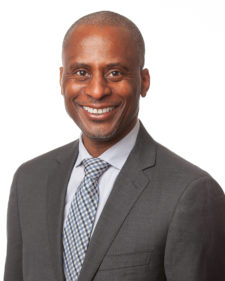 James Washington is a former principal dancer with Dance Theatre of Harlem (DTH), and a featured artist with the Staten Island Ballet. Mr. Washington is a graduate of the University of North Carolina School of the Arts, and following his retirement from the professional world of ballet, he pursued a career in nursing, and attained professional degrees from Hunter College in New York City. Currently, Mr. Washington is the Patient Care Supervisor at Broxncare Hospital Center; an adjunct professor at Hostos Community College in Bronx, NY; and a proud member of the Epsilon Sigma Harlem Chapter of Phi Beta Sigma Fraternity.
---
Dance Theatre of Harlem Company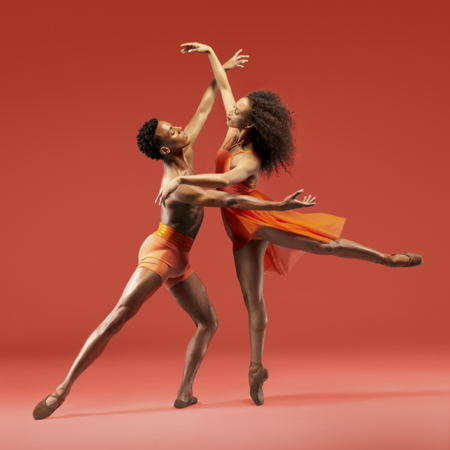 Now a singular presence in the ballet world, the Dance Theatre of Harlem Company tours nationally and internationally, presenting a powerful vision for ballet in the 21st century. The 18-member, multi-ethnic company performs a forward-thinking repertoire that includes treasured classics, neoclassical works by George Balanchine and resident choreographer Robert Garland, as well as innovative contemporary works that use the language of ballet to celebrate African American culture. Through performances, community engagement and arts education, the Company carries forward Dance Theatre of Harlem's message of empowerment through the arts for all.
---
Dance Theatre of Harlem School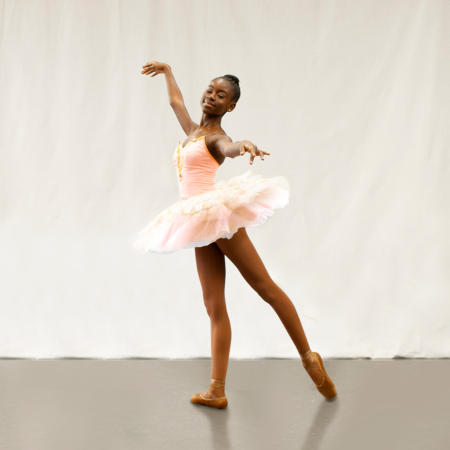 The Dance Theatre of Harlem School is a private studio school which provides world-class training in ballet and diverse dance disciplines. The curriculum includes ballet at its core, which develops artists within and prepares them fr success both on and off the stage.
---
Urban Bush Women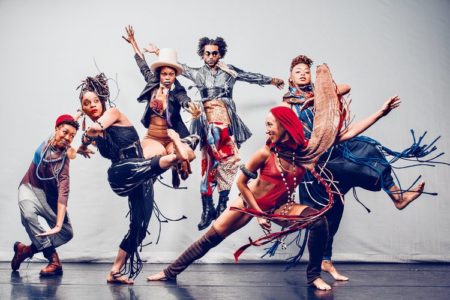 Urban Bush Women (UBW) burst onto the dance scene in 1984, with bold, innovative, demanding and exciting works that brought under-told stories to life through the art and vision of its award-winning founding Artistic Director and Visioning Partner, Jawole Willa Jo Zollar. The company continues to weave contemporary dance, music, and text with the history, culture, and spiritual traditions of the African Diaspora under the organizational artistic direction of Zollar and Co-Artistic Directors of the UBW Company, Chanon Judson and Samantha Speis.
UBW performs regularly in New York City and tours nationally and internationally. The Company has been commissioned by presenters nationwide, and includes among its honors a New York Dance and Performance Award ("Bessie"); the Capezio Award for Outstanding Achievement in Dance; a Black Theater Alliance Award; and two Doris Duke Awards for New Work from the American Dance Festival. In recent years, Zollar has been awarded the 2014 Southern Methodist University Meadows Prize, the 2015 Dance Magazine Award and the 2016 Dance/USA Honors Award. In 2017, Zollar received a Bessie Award for Lifetime Achievement in Dance. Speis is the recipient of the 2017 Bessie Award for Outstanding Performer with the ensemble skeleton architecture. Judson received the APAP Leadership Fellowship and the Director's Lab Chicago Fellowship in 2018.
Off the concert stage, UBW has developed an extensive community engagement program called BOLD (Builders, Organizers, and Leaders through Dance). UBW's largest community engagement project is its Summer Leadership Institute (SLI), established in 1997. This 10-day intensive training program serves as the foundation for all of the company's community engagement activities. Ultimately the SLI program connects dance professionals and community-based artists/activists in a learning experience to leverage the arts as a vehicle for civic engagement.
UBW launched the Urban Bush Women Choreographic Center Initiative (CCI) in January 2016. The CCI supports the development of women choreographers of color and other underheard voices.
---
Cellist Sterling Elliot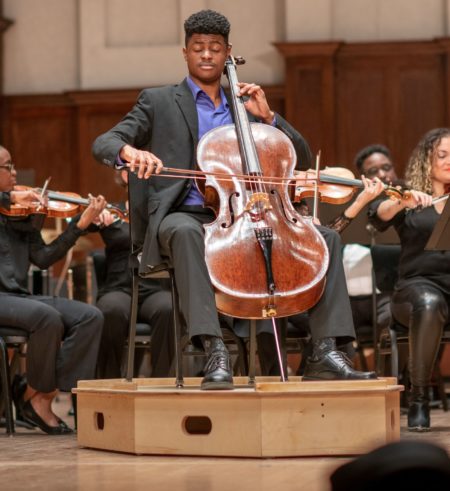 Sterling Elliot has soloed with the New York Philharmonic, The Cleveland Orchestra, Virginia Symphony Orchestra, the Hilton Head Symphony Orchestra, the South Bend Symphony Orchestra, the New World Symphony, the Buffalo Philharmonic Orchestra, the San Francisco Chamber Orchestra, and many more as well as a performance at the 2019 World Economic Forum in Davos, Switzerland. In 2015 & 2016 Sterling performed a 7-week national tour with the Sphinx Virtuosi, and in 2018 was a featured soloist on tour including a performance at Carnegie Hall.
He began his cello studies at the age of three and made his solo debut at the age of seven when he became the first-place Junior Division winner of the PYO Concerto Competition. Other notable accomplishments include 1st place in 2019 National Sphinx Competition Senior Division, 2019 Camerata Artists International Competition, grand prize in the First Presbyterian Young Artist Competition, 1st place in the 2014 Sphinx Competition, 2014 Richmond Symphony Concerto Competition, etc. Sterling has enjoyed the honor of performing for cellist Yo-Yo Ma and also performing alongside recording artist Jennifer Hudson.
National Sphinx Competition Awards:
2019 Senior Division 1st Place Laureate
2014 Junior Division 1st Place Laureate
2013 Junior Division 2nd Place Laureate
2012 Junior Division Semi-Finalist
Sterling currently studies with Joel Krosnick at the Juilliard School working toward an undergraduate degree in cello performance where he is a proud recipient of a Kovner Fellowship.
---
The National Black Theatre

Founded by visionary Dr. Barbara Ann Teer in 1968, National Black Theatre (NBT) is a nationally recognized cultural and educational institution. Dr. Teer pioneered "the healing art of Black theatre as an instrument for wholeness in urban communities where entrepreneurial artists of African descent live and work." In 1983, Dr. Teer expanded the vision of NBT by purchasing a 64,000-square-foot building on 125th Street and Fifth Avenue (renamed "National Black Theatre Way" by local law in 1994). This was the first revenue-generating Black arts complex in the country, an innovative arrangement through which for-profit businesses who shared NBT's spiritual and aesthetic values rented retail space to subsidize the arts. Out of her vision, NBT houses the largest collection of Nigerian new sacred art in the Western hemisphere and is considered the authentic representation of a model whose time has come. NBT is partially supported by grants from the City Council of New York, City of New York Department of Cultural Affairs, Ford Foundation, Columbia Service Society and private donations.
NBT's Jimmy Brooks and and Ashley Bufkin will perform an Excerpt from Bayano by Darrel Alejandro Holnes & directed by Jeffery Page.
Play Synopsis: Inspired by Homer's The Odyssey, BAYANO explores the history, spirituality, and liberation of Bayano, an African who struggles to escape slavery in 16th century Panama. An imaginative quest through the treacherous Atlantic Ocean, this epic tale follows Bayano and the Yoruba deities and gods who intercede on his journey to return to his family in Yorubaland. Presented as part of NBT's I AM SOUL Playwright Residency.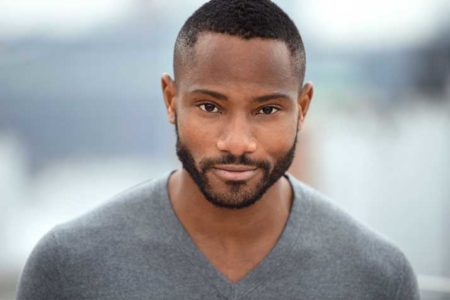 JIMMY BROOKS (Dike) is beyond thrilled to join the Bayano: My Odisea cast. Off-Broadway: A Clockwork Orange (Billy Boy, F-Me Pumps, Governor), safeword. (Xavier), Dial N' for Negress (Doodlebug). He delivered a charming standout performance in the film Bwoy opposite Anthony Rapp. Television: "Madam Secretary" (Recurring), "Elementary", "Power", "Bluebloods". Washington University in St. Louis alumni, BFA: Acting, BA: Mathematics. West African native (Liberia). Thanks to everyone over at The Mine Agency. @jganasin jimmbrooksjr.com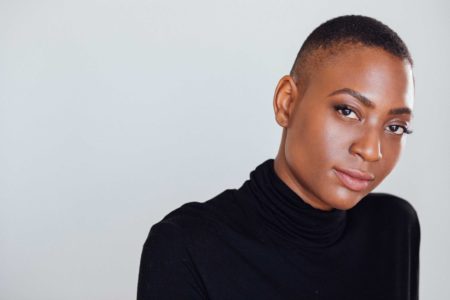 Ashley Bufkin is a Las Vegas native and MFA graduate from Rutgers University. She's thrilled to making her National Black Theater debut! Previous credits: Little Women (Hangar Theatre), 3 Musketeers 1941 (ART/NY Theatres), In the Next Room (or the Vibrator Play) (Gulfshore Playhouse), Pride and Prejudice (Pittsburgh Public Theater), A Doll's House Part 2 (Barrington Stage Company); Julius Caesar (Shakespeare's Globe); Mason Gross School of the Arts – An Octoroon; (Hera)kles; Julius Caesar. Social media: ashleybufkin.com; @bufkinsmuffins
---
"Voices of Convent" Convent Avenue Baptist Choir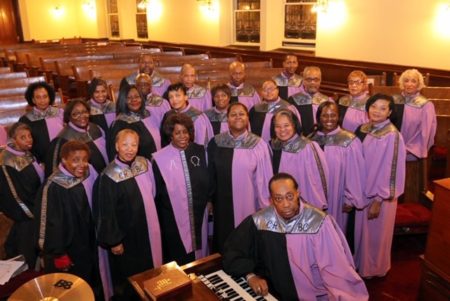 The Voices of the Convent Avenue Baptist Church, where Rev. Dr. Jesse T. Williams, Jr. is the Senior Pastor, specialize in the traditional gospel music of the African American Church. Dr. Gregory Hopkins is the Minister of Music and Anthony G. Evans is the Director of the "Voices". The instrumental accompanists are Jeremy Jordan, Pianist and Edward Brown, Drummer. This group was founded as the result of a merger between the old Gospel Chorus and the Prayer Meeting Choir. At that time they were the largest Gospel choir in the area. The "Voices" were recognized all over the city and popularized by their "All- Request" Concerts on the third Sunday of every month. The "Voices" were blessed to sing at St. Patrick's Cathedral and the N.Y. World's Fair. The choir has experienced an awesome revitalization and joyfully serve the Church and the Harlem community singing praises to our Lord.