Dancing Through Barriers® (DTB) provides young people and adults of all ages an opportunity to discover the strength of their character by exploring what it means to be part of a positive community that supports inclusion, tolerance, equity and diversity. Our programs foster self-determination, teamwork, community building and leadership, instilling in individuals a desire to become citizens who make positive contributions to society.
---
Description of Curricula
Residencies can be designed with any combination of the described activities and may run the course of a few weeks or the entire school year.
1. Residency: Dance Making (Grades K-12)
Empowers students to discover and utilize original movement to consider the many sources of inspiration for creative dance making. Students create autobiographies and self-portraits among other interdisciplinary extension activities. This curriculum also strengthens team building, critical thinking and problem solving as students learn to understand dance as a means of expression and communication.
2. Residency: Positive Community (Grades K-12)
Enables students to reflect upon community relationships and gain new insights by using dance to illustrate natural environments. Its purpose is to help students understand their surroundings and identify issues that could be hindering achievement by learning through group exploration, dialogue and reflecting on their own personal choices to understand what contributes to the formation of a healthy community.
3. Residency: Technique & Repertory (Grades 3-12)
Ballet Technique is stressed as a systematic approach to use skilled movements as a tool for self-expression, physical and mental mastery. Students engage in reciprocal peer reviewing, as they learn to work as teams to analyze, critique constructively and communicate respectfully. Students also learn choreography from Dance Theatre of Harlem's repertoire such as Return, Forces of Rhythm and New Bach, which are modified and taught according to their level of experience.
4. Diaspora (Grades 3-12)
This residency helps students understand major events in African-American History by exposing them to pioneers, cultures and time periods that yielded innovation and change. Eras such as the Great Migration, Harlem Renaissance, and the Civil Rights Movement are explored through dance, choreography, music, poetry and "salon" discussion groups.
---
 Other Services
Site Visits (Grades 2-12)
Dance Theatre of Harlem offers uniquely designed guided tours of its historic home. Located in the Sugar Hill district of Harlem, guided tours include an opportunity to learn about the history of DTH and of the community that birthed this world-renowned dance company. A variety of experiences can be created for your group, including an opportunity to observe the professional company in the studio (limited date options). Master classes are also available, placing emphasis on classical technique as practiced at Dance Theatre of Harlem.*
School time Performances/ Lecture Demonstrations (Grades 3-12)
DTB School Time Performances provide a fun and accessible introduction to the art of ballet; this includes the production elements of putting on a performance and an opportunity to see choreographic sequences come alive through newly learned classical dance pedagogy: jumping (sauté), lifting (pas de deux) and dancing on the tips of their toes (en pointe). Students are also given the opportunity to show off their own moves on stage.
*Separate costs apply
All Dancing Though Barriers® programs are designed in accordance with the NYC Department of Education's Blueprint for Teaching and Learning in the Arts/Dance Pre-K-12.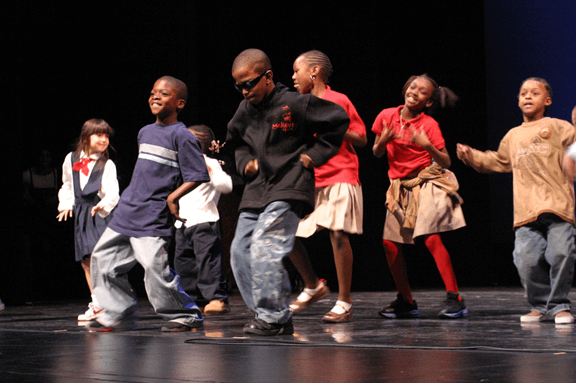 ---
For additional information to bring a DTB program to your school, contact:
Community Programs Department
Dance Theatre of Harlem | Everett Center for the Performing Arts
466 West 152nd Street, New York, NY 10031-1814
school-info@dancetheatreofharlem.org
DOE Vendor #DAN023000