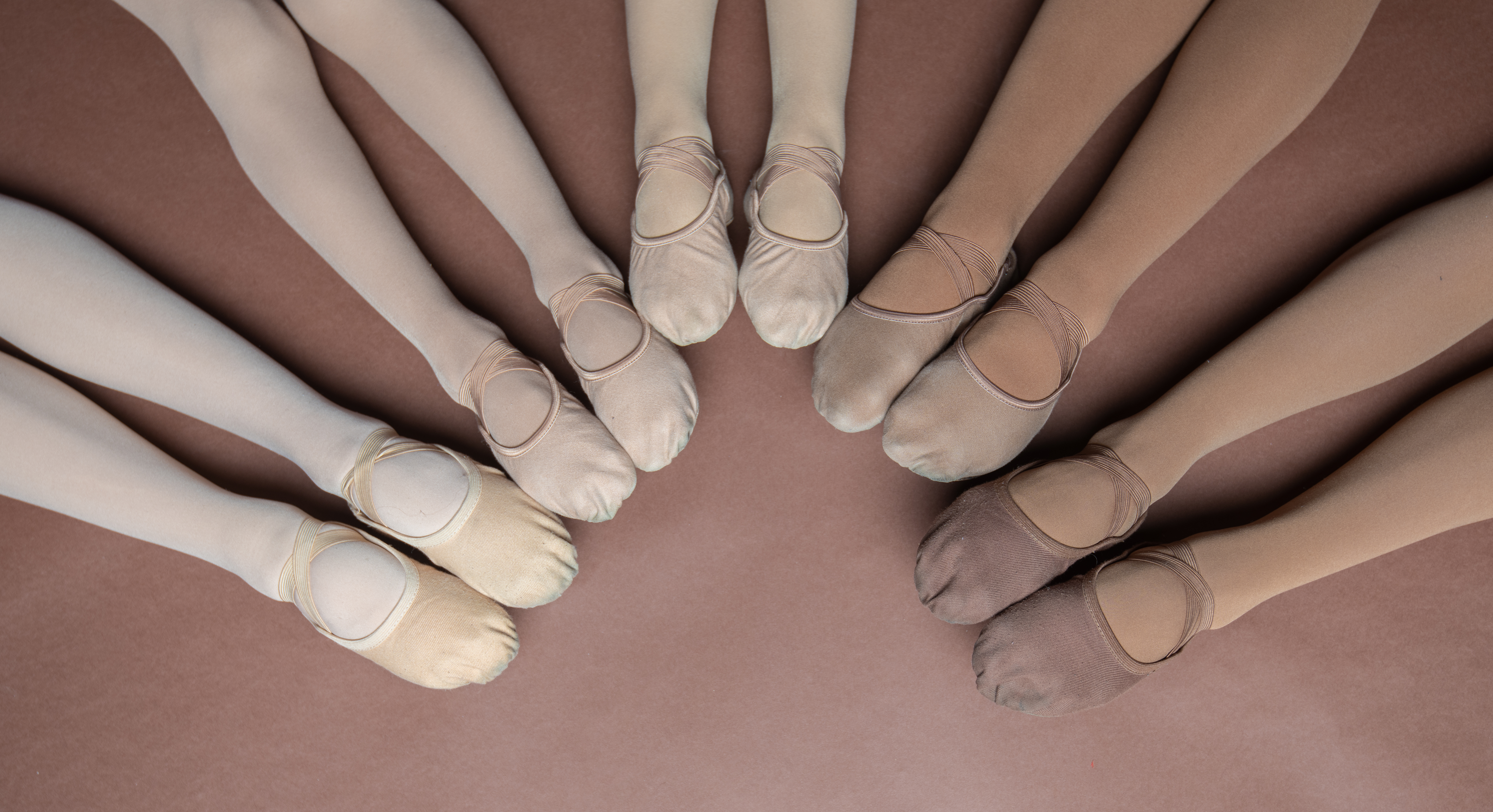 Alexis Arlene Andrews | Ballet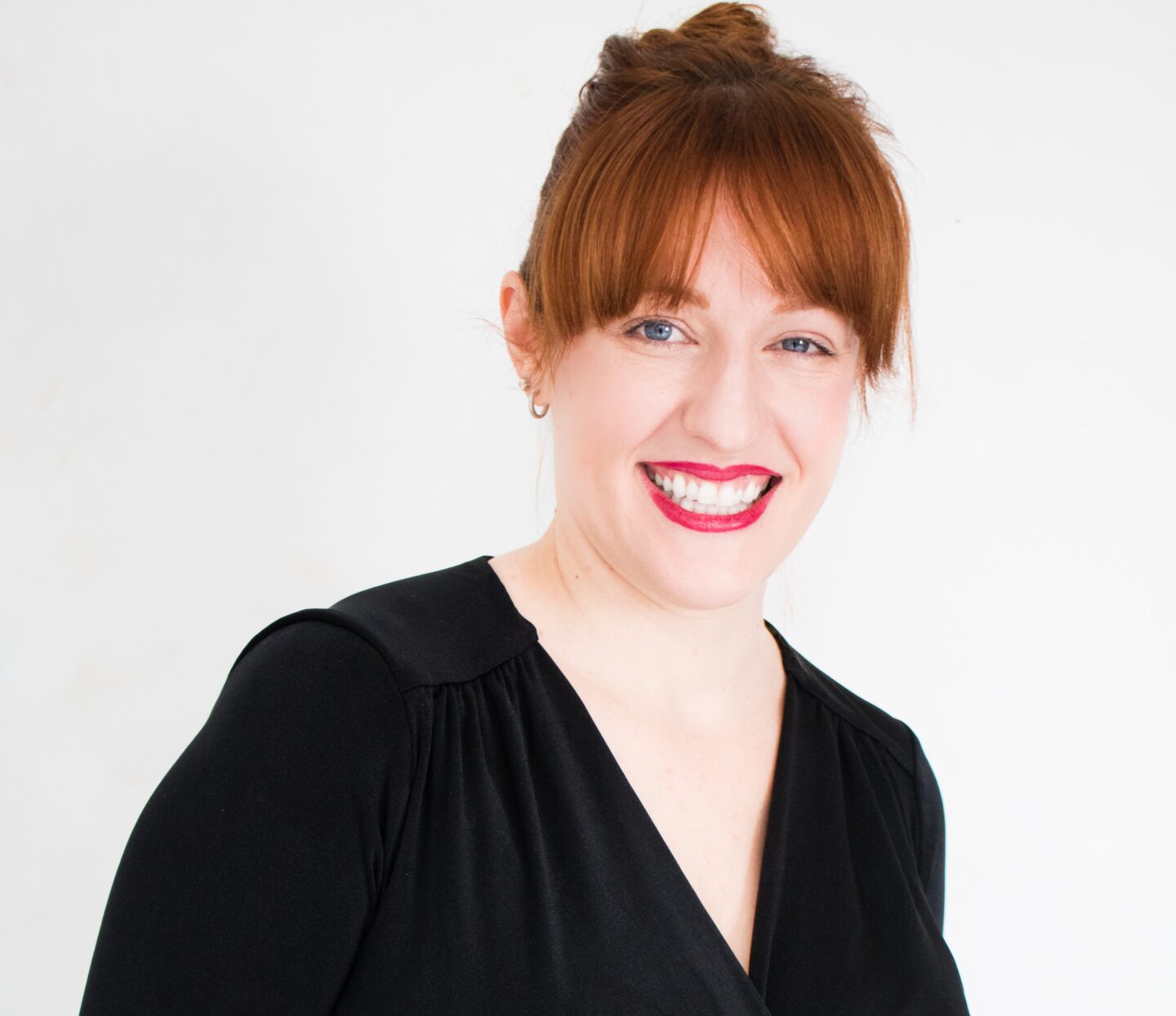 ALEXIS ARLENE ANDREWS began her ballet training in Reno, Nevada under the direction of Maggie Banks, Dr. Barbara Land and Alexander Van Alstyne. Her training continued at Walnut Hill School for the Arts '01, the American Ballet Theatre Jacqueline Kennedy Onassis School, San Francisco Ballet School, and the Joffrey Ballet School. Ms. Andrews has been a dance educator in New York since 2013. She earned her Master of Arts for Teaching Dance in the Professions from New York University Steinhardt in combination with American Ballet Theatre Pedagogy and was awarded a certificate for Outstanding Achievement in Graduate Dance Education. Ms. Andrews is an ABT Certified Teacher in Pre-Primary through Level Seven of the ABT National Training Curriculum and on the Board of Examiners. This is her eighth year on the faculty of the Dance Theatre of Harlem School. She is also faculty at ABT JKO School Children's Division and Hunter College Elementary School.
Photo by: Mallory Pettee
Bethania Gomes | Ballet & Pointe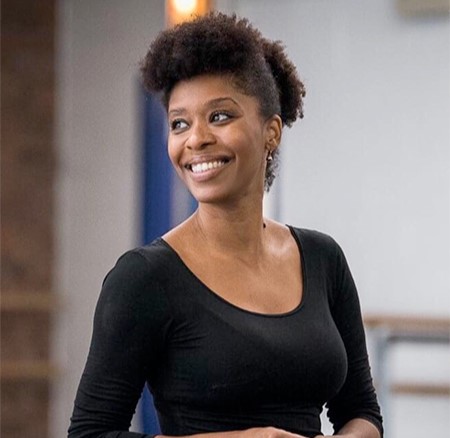 Born in Rio de Janeiro, Brazil, BETHANIA GOMES pursued a dance career in classical ballet, training at Maria Olenewa Municipal School in in Rio de Janeiro. She joined the Dance Theatre of Harlem School in 1991 as a scholarship student, joining the company in 1992 and rising to the rank of principal dancer in 2001, becoming the first Afro-Brazilian ballerina to reach such a rank. She was mentored and directed by Arthur Mitchel. Ms. Gomes has also being part of Dance Company Complexions (1998), and worked with the late recording artist Prince (1997) as a ballet dancer in his project New Power Generation Dance Company.
Between the years of 2006 and 2014 Ms. Gomes worked in Brazil at many outreach dance programs, creating her own ballet program in one of the favelas (Chapeu Mangueira / Babilonia) in Rio de Janeiro. She has also choreographed for Black History Month 2020 Nike campaign and recently for the inauguration of the elected President of Brazil Luis Inacio "Lula" Da Silva.
In 2021 Ms. Gomes published her first children's book, "Betha a Bailarina Pretinha," based on her life story as a black ballerina.
Ms. Gomes is dedicated to continuing the work of her mother, the late civil rights activist and icon Beatriz Nascimento. In 2022 she founded the Beatriz Nascimento Foundation, a nonprofit organization based on Arts and Education to empower Afro Brazilian Culture and History for the African Diaspora and citizens of the world, and in 2023 is publishing the first book of translated works of Beatriz Nascimento "The Dialectic is on the Sea."
Ms. Gomes is currently on faculty with the Dance Theatre of Harlem School.
Andrea Renee Long-Naidu | Ballet, Pointe, Variations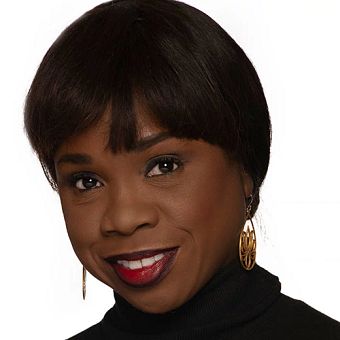 ANDREA RENEE LONG-NAIDU was born in Philadelphia where she began her dance training at age seven at the Pennsylvania Ballet School.  Her early training also included Dance Theatre of Harlem School and American Ballet Theater School. At age fourteen Ms. Long-Naidu became an apprentice with the Pennsylvania Ballet company. A year later, she was accepted into the School of American Ballet (SAB) on full scholarship and following joined the New York City Ballet (NYCB). After 8 years with the NYCB, Ms. Long-Naidu joined Dance Theatre of Harlem where she was principal dancer till 2004.
Among her principal roles are Ash, Fearful Symmetries, Les Sylphides, Le Corsaire, Firebird, Serenade, Allegro Brilliante, The Four Temperaments, Concerto Barocco, Valse Fantaisie, Manifestations, New Bach, Return, Twist, Viraa and The Nutcracker.
Ms. Long-Naidu served as the first Ford Foundation Guest Faculty Chair at the School of American Ballet and on the faculty of Dance Theatre of Harlem, Sandonato School of Ballet, Collage Dance Collective, CityDance, Dance Institute of Washington Ballet, Central Pennsylvania Youth Ballet, Boston Ballet and most recently as Principal Upper and Middle Division at Philadelphia Ballet.
Ms. Long-Naidu is featured in Misty Copeland's book "Black Ballerinas," in NYCB's The Nutcracker film and in French Vogue.
Photo by: Igor Burlak
Brian McGinnis | Modern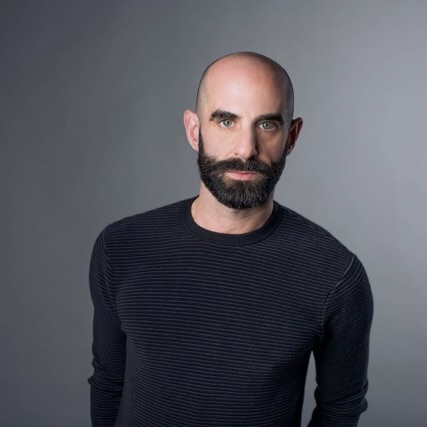 BRIAN MCGINNIS began dancing with Jo Ann Warren in Worcester, Massachusetts. His early childhood was spent tap dancing at local nursing homes, hospitals, and the nearby shopping malls of his community. During his teen years, Brian performed at Busch Gardens-Williamsburg and Walt Disney World, Florida, and in the winter months, toured with a local ballet company.
He attended and graduated with a Bachelor of Fine Arts in Dance from The Juilliard School under Benjamin Harkavy's directorship; after that, New York City became his home. Mr. McGinnis immersed himself for many faithful years in the companies of Lar Lubovitch, Elisa Monte, David Parsons, Zvi Gotheiner, and Jacqueline Buglisi. He had the opportunity to perform at Jacob's Pillow, Lincoln Center, The Cultural Center of the Philippines, The Bolshoi Theatre, the American Dance Festival, The Joyce Theatre, NY City Center, The Kennedy Center, Millenium Park, Chicago, The Shubert Theatre, Boston, and The Spoleto Festival, Italy. During those informative years, he self-produced workshops, masterclasses, and performance residencies, gaining more perspective on dance and how it affected him pedagogically. This led him to graduate school at The University of Wisconsin-Milwaukee, where he earned his MFA in Dance. He lived in Chicago for a year, touring with Hubbard Street Dance, and then a second time, most recently for five years when he was on faculty at ChiArts, Chicago's Public Performing Arts High School, and Visceral Dance Center in the heart of the windy city. In 2017 he joined Boston Conservatory at Berklee as an associate professor, where he is the artistic director of the Senior Performance Project Forward, teaches Senior Modern Technique, First Year and Junior Year Dance Composition, and the Professional Seminar course. His classes collaborate and present performances with the Music Composition Department at Berklee College of Music, and he is a rehearsal director for the conservatory's main stage dance productions. Brian received the student-nominated Best of Berklee Award and Dance Conservatory Teacher of the Year award.
In 2018 he received a Faculty Travel Grant and Faculty Development Fellowship from Berklee College of Music to conduct pedagogical research in Israel for a movement method he is developing. Brian also holds an Associate's Degree in Occupational Science for Massage Therapy from The Swedish Institute in New York Cty and is a Massachusetts state licensed Massage Therapist.
Photo by: Cheryl Mann
Djoniba Mouflet | African & Afrobeats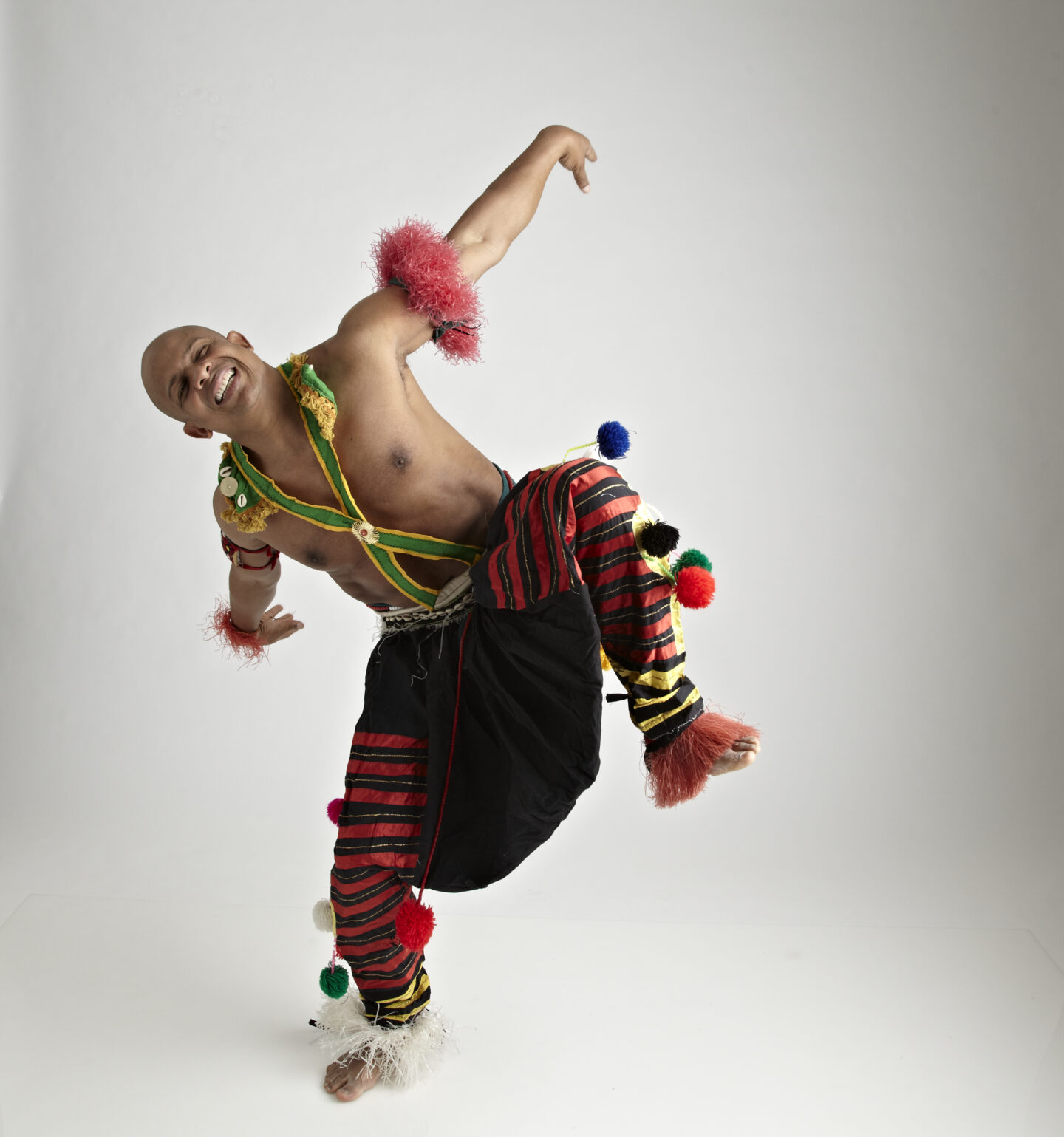 DJONIBA MOUFLET is an internationally-acclaimed drummer, dancer, teacher, performer and choreographer as well as a musical producer, writer and composer. Born in Martinique, he spent many of his teenage years in Senegal, Mali, and Guinea, West Africa, where he studied with renowned dance and musical masters Boully Sankho, Doudou Ndiaye Rose, Kemoko Sano and many more.
Mr. Mouflet mastered the dance of various regions of Africa as he studied with the different cultures in small villages as well as in local companies, including Ballet Forêt Sacré, Ballet Mëissa, Ballet Conakry and the National Ballet Africain of Guinea. In Senegal, at the then-internationally known performing arts school Mudra Afrique, founded by Maurice Béjart, he earned a professional degree in performing arts. At Mudra, Mr. Mouflet studied ballet with a teacher from the Russian Bolshoi Ballet, traditional African dance from Senegal, Mali, Congo, and Guinea, the Germaine Acogny African dance techniques, The Martha Graham modern dance technique, jazz dance, music theory, and the Stanislavsky acting techniques. He mastered the dance of various regions of Africa as he studied with the different cultures in small villages as well as in local companies, including Ballet Forêt Sacré, Ballet Mëissa, Ballet Conakry and the National Ballet Africain of Guinea.
While working in Paris during the summer to finance his studies in Senegal, Mr. Mouflet was scouted and granted a three-year scholarship by Arthur Mitchell to study at Dance Theatre of Harlem (DTH), where he extended his skills in ballet, tap, modern dance, musical theater, and jazz. Within a few months, he was not only a student, but was also offered the position of African Dance teacher at DTH. His physical abilities and incredible natural talent, dance skills and musical versatilities earned him many roles and led him to work with Spike Lee, Chaka Khan , drummer Will Calhoun from Living Colour, Kid Creole and the Coconuts, actress Lindsay Wagner, and Babatunde Olatundji among many others.
In April 1994, Mr. Mouflet opened the Djoniba Dance & Drum Centre in New York City. Mr. Mouflet is the author of "Joneeba!," a book highlighting his dance technique and about African Dance. He is the founder and choreographer of Ballet D'Afrique Djoniba, a company of dancers and musicians performing traditional West African dance and music. Their extensive international tours have included performances on some of the world's most prestigious stages, including Walt Disney World, Bush Gardens, the Guggenheim Museum, the Museum of Natural History as well as stages of hundreds of public schools and universities in the USA.
Over the years, thousands of students have passed through Mr. Mouflet's high-energy classes. His unique "Joneeba" teaching style and technique has become a model for many. Mr. Mouflet is tireless in his work as a humanitarian and cultural ambassador. These endeavors include programs for homeless children and a children's scholarship program which has helped hundreds of children citywide from low-income families to attend dance and drum classes for free.
Photo courtesy of Djoniba Mouflet
Danielle Thomas | Ballet & Pointe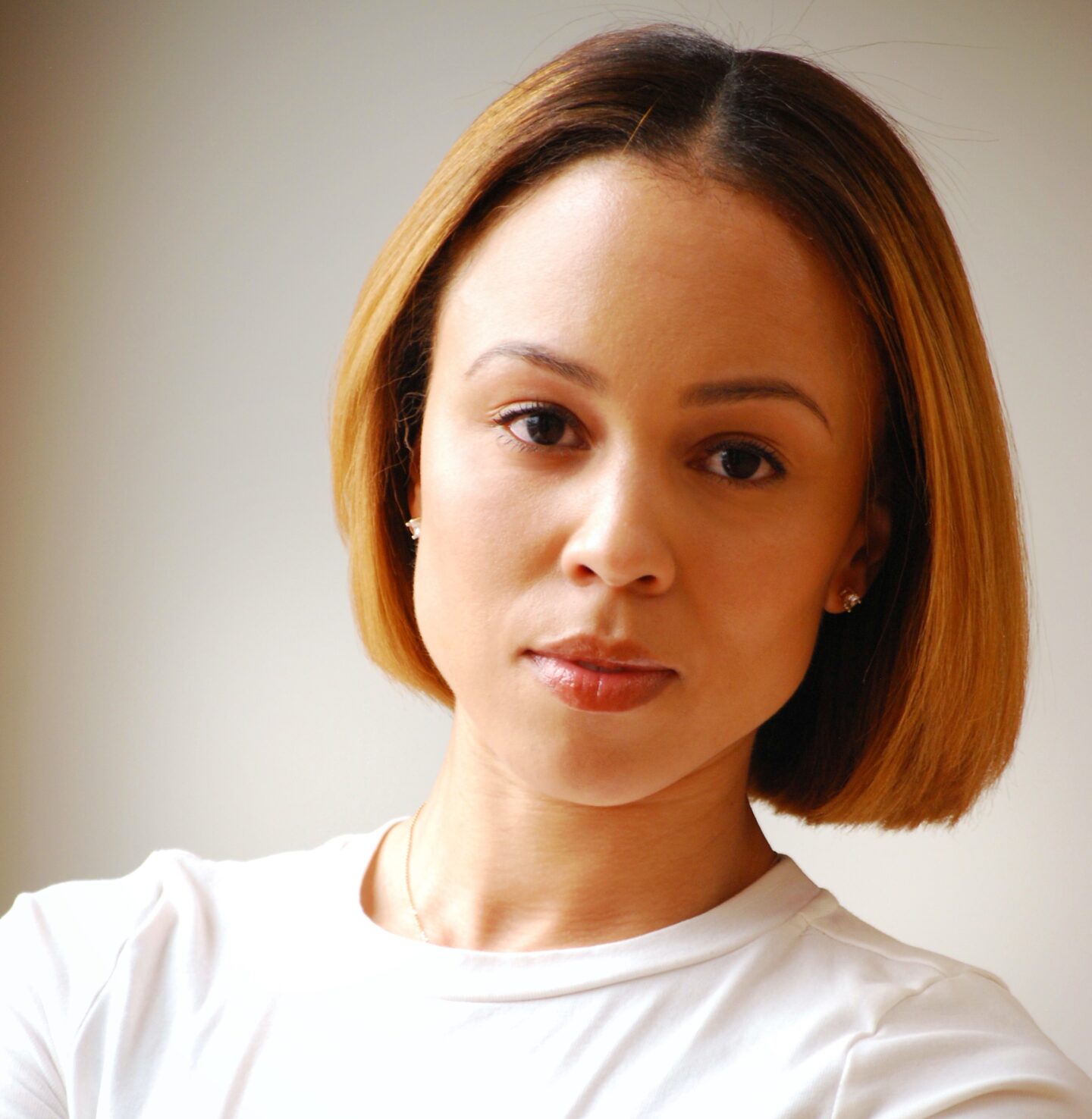 Born and raised in New York, New York, DANIELLE THOMAS began her extensive dance training at the Dance Theatre of Harlem (DTH) at the age of four where she studied ballet, tap, jazz, West African, modern and contemporary dance. Upon graduating high school, Ms. Thomas was invited by Founder and Artistic Director Emeritus, Arthur Mitchell, to dance professionally with the Dance Theatre of Harlem Company. During her tenure with the Dance Theater of Harlem, Ms. Thomas had the opportunity to travel the world appearing and performing on various platforms including Sesame Street, the Chinese New Year Parade in Hong Kong, China, and the world's famous Apollo Theater in Harlem, New York alongside Gregory Hines, and Ben Vereen, to name a few. Ms. Thomas has also had the opportunity to train and perform with various professional dance companies, and study and train with some of the most prominent dance companies and artists over her twenty-two-year tenure as a professionally trained ballet dancer, including her mentor, the late legendary Arthur Mitchell.
In more recent years, Ms. Thomas has taught at Rockefeller Center for the Radio City Rockettes, as well as Harlem School of the Arts, Ballet Tech, Joffrey Ballet, Manhattan Youth Ballet, New York City Charters Schools and her alma mater, Dance Theatre of Harlem school for nineteen years. Ms. Thomas is the recipient of her Certification in the American Ballet Theatre Curriculum.
Photo by: Joseph Rayome
Sarah Wingo | Jazz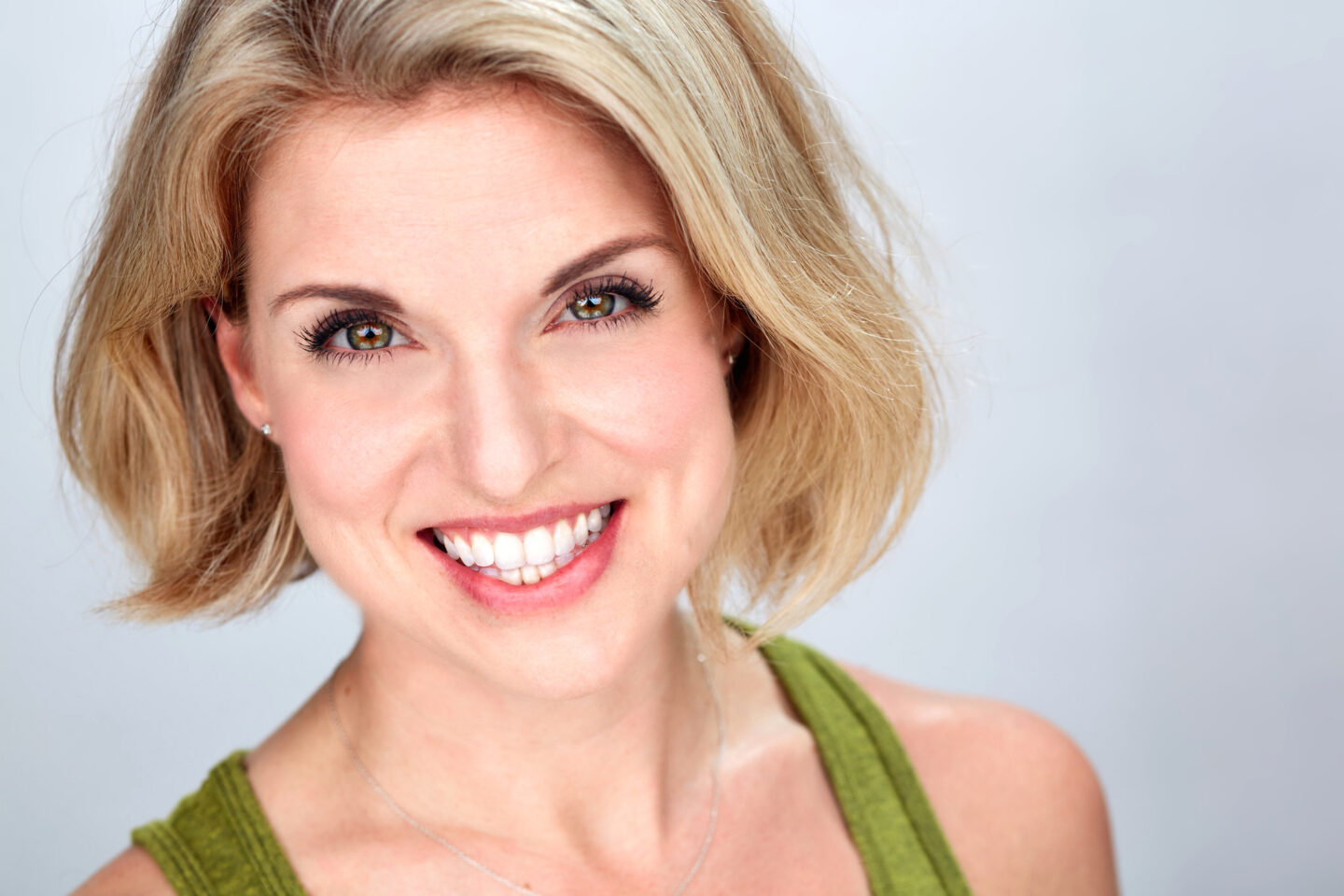 SARAH WINGO has toured nationally and internationally with shows like Dirty Rotten Scoundrels, Cats (Victoria) and for The Rolling Stones 50th Anniversary Tour. Other favorite regional credits include Beauty and the Beast, Guys n'Dolls, and Cabaret.
Ms. Wingo has appeared as an actor/dancer in several episodes of The Marvelous Miss Masial. She can also be seen in national, regional and network commercials for: Samsung, Napa Auto Parts, Geico, Pillsbury, Cold EEZE, Weight Watchers, Aleive, and CNN NYE 2019 With Anderson Cooper and Andy Cohen. Ms. Wingo is in commercial print advertisements with celebrity trainer Sean-T for Kohl's/Fila, Rockport Shoes, The Carlyle Hotel and Cartier. Sarah has also appeared in videos for Beach Body (Open Fit), Health.com and Shape.com (Pure Barre). Most recently, she appeared as co-host of Time Life Loves the 80s along-side 80's pop icon, Thomas Dolby.
Ms. Wingo's choreography has been performed around New York City. Most recently in Dance Theatre of Harlem's spring performance Kontomble (Jazz), The Alvin Ailey School's BFA Benefit Concert, AMTA's production of Nunsense at The West Side Theater as well as various contemporary pieces at The Ailey Citigroup Theater, The Producer's Club and The Joyce Soho. Ms. Wingo has also choreographed for Barter Theater's Late-Night Cabaret, Fort Wayne Ballet, Bristol Ballet, and the Miss Virginia and Miss Tennessee Pageants as well as setting solos and group pieces to be performed for competitions. Currently, she has a residency at the Players Theater with her improv team Pie Town where she creates an improvised ballet in the show Welcome to Pie Town.
Ms. Wingo is on faculty at Dance Theatre of Harlem and the Alvin Ailey School where she teaches jazz, ballet, composition, conditioning and anatomy and loves every single thing about being a dance educator. She  is a Certified Personal Trainer (CPT), Corrective Exercise Specialist (CES), Fitness Nutrition Specialist (FNS), Performance Enhancement Specialist (PES) Women's Fitness Specialist (WFS) and Weight Loss Specialist (WLS) through the National Academy of Sports Medicine and has been training athletes and beginners alike for over a decade.
Photo by: J. Demetrie Photography